Here are some of the recent photos of donors and supporters of The Women's Community. Thank you all for your support of The Women's Community and the survivors we serve!
Photos from previous years can be found here:
2022      2021      2020      2019      2018      2017      2016      2015      2014
2023 Donation Photos:
Thank you Nicolet Bank for your beautiful tie blanket donation! We appreciate your generosity!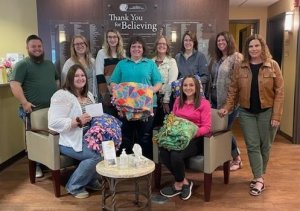 Thank you to the Wausau Academy of Dance for your generous donation!