Sexual Assault Awareness Month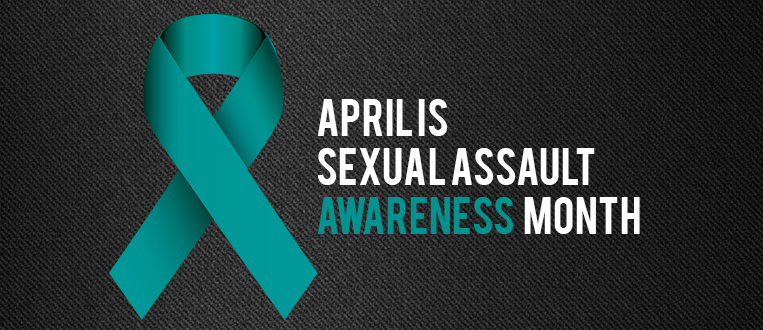 What is sexual assault?
The term sexual assault refers to sexual contact or behavior that occurs without explicit consent of the victim. Some forms of sexual assault include:
Rape or attempted rape
Fondling or unwanted sexual touching
Forcing a victim to perform sexual acts, such as oral sex or penetrating the perpetrator's body
Penetration of the victim's body, also known as rape
https://www.rainn.org/articles/sexual-assault
The History of Sexual Assault Awareness Month (SAAM)
Beginning in the 1970's, advocates wanted to publicly raise awareness about sexual violence.  Initially it began as protests in England and continued across the ocean to the US where the month of April has been designated as Sexual Assault Awareness Month since 2001.  Since that time, there have been awareness month activities held nationwide.  Each year The National Sexual Assault Resource Center creates a theme so we have a unified voice and can share ideas on how to raise awareness.  Teal has become the signature color for sexual assault awareness and wearing a teal ribbon symbolizes support.
Plans for April 2018 SAAM
This year, the national theme for SAAM is, "Embrace Your Voice". The Women's Community will be hosting multiple events in April to raise awareness for SAAM. We will have an exhibit open to the public called, "What were you wearing?" which will be displayed at the Center for the Visual Arts in Downtown Wausau from April 10th-21st. The exhibit will feature outfits recreated from the stories of local survivors of sexual assault. On April 16th, we will be presenting awards to deserving community members that have shown outstanding support to survivors.
On April 18th, there will be a panel at Northcentral Technical College called, "Debunking the Myths Surrounding Human Trafficking and Sexual Assault". On April 25th, we ask the community to join us in wearing denim for Denim Day. Denim Day is a day to raise awareness and stand in solidarity for victims. Denim Day is based off of an Italian case that was overturned. The case was overturned because the victim was wearing tight jeans before she was assaulted. The Supreme Court assumed she must have helped her rapist remove her jeans since they were tight and they didn't believe he could have done it himself. Denim Day became a symbol of protest against destructive attitude and victim blaming with sexual assault.  The Women's Community will be distributing teal rubber bracelets and teal ribbons to raise awareness. For Teal Tuesdays, show your support for survivors by wearing something teal! We are looking to not only support survivors of sexual assault, but allow them the opportunity to embrace their voice!
We believe that those in our community can raise awareness and make a difficult topic that too many feel ashamed to discuss, something that can be discussed or talked about. We encourage survivors to embrace their voice! Talking about a sexual assault can come with an array of emotions, but we can work through those together. No one should feel that they can't share their story! Unfortunately, sexual assaults are happening in this community. Someone you know may be struggling with this, but we as a community can make a difference. YOU can be a voice for those who haven't embraced theirs yet! We hope you will join us in raising awareness about this topic and look forward to seeing you at upcoming events!
Sexual Assault Victim Services Advocate